Recipes Right for Your Family
Have a picky eater? Short on time? Sort recipes by kid-friendly, prep time and more.
Recipe Finder
Use filters to find meals and snacks that fit your preferences.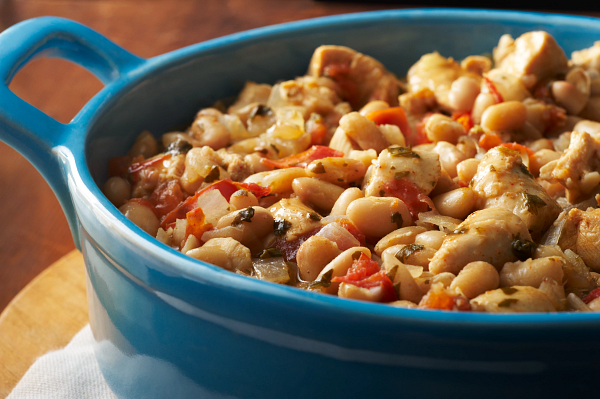 White Bean Basil Chicken Chili
Ingredients
1 pound boneless chicken pieces
1 medium onion
2 cloves garlic
1 medium tomato
1 large lime
¼ cup fresh cilantro leaves
1 Tablespoon fresh basil
2 (15½-ounce) cans great northern beans, no salt added
2 Tablespoons canola oil
4 cups low-sodium chicken broth
1½ teaspoons chili powder
1½ teaspoons ground cumin
½ teaspoon dried oregano
¼ teaspoon salt
¼ teaspoon ground black pepper
Optional Ingredients
2 teaspoons red pepper flakes
Materials
Can opener
Colander
Cutting board
Large pot with lid
Measuring cups
Measuring spoons
Sharp knife
Small bowl
Instructions
Remove any skin and excess fat from chicken pieces. Cut chicken into ½-inch cubes.
Rinse, peel, and finely chop onion. Peel and mince garlic.
Rinse tomato. Remove core and seeds. Chop.
Rinse lime. Cut in half. In a small bowl, squeeze juice from one half. Discard seeds.
Rinse and chop cilantro and basil.
In a colander, drain and rinse beans.
In a large pot over medium heat, heat oil. Add onion and garlic. Cook until onion is tender, about 5 minutes. If onion or garlic start to brown, lower heat.
Add chicken, beans, broth, spices, tomato, lime juice, basil, and cilantro. Stir. Bring to a boil. Reduce heat and cover. Simmer for 1 hour, stirring occasionally.
If using, top with red pepper flakes.
Chef's Notes
Use any canned beans you like in place of great northern beans.
Serve over a bed of cooked greens like spinach, kale, or chard. Or, serve over brown rice.
For a different flavor, use Thai basil instead of regular basil.